Jane's Vocal Career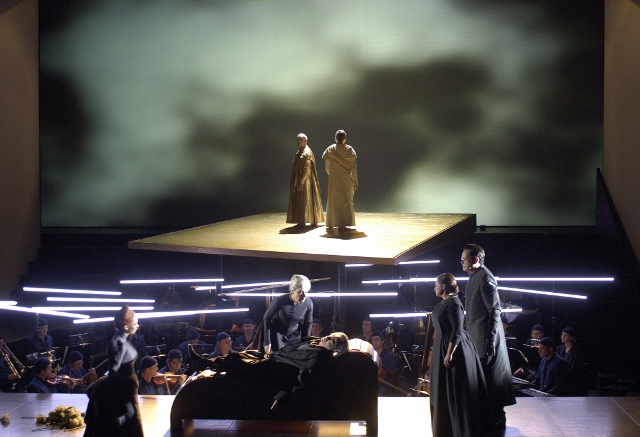 Jane's professional career began as a chorister with Scottish Opera. During that time she was also a member of a close harmony cabaret group and made regular appearances on BBC radio and television and the Edinburgh Festival. In 1990 Jane moved to Holland where she sung primarily with De Nederlandse Opera, but also with Nationale Reis Opera, Groot Omroep Koor and Vlaamse Opera in Antwerp. She has worked with conductors such as Leonard Bernstein, Pierre Boulez, Carlo Rizzi and Simon Rattle. Her work has taken her to opera houses in Venice, Frankfurt, Mannheim, Santander, Paris, Luxembourg and the Salzburg Festspiel, as well as concert performances in the Cayman Islands. In 2007 she created the role of 'Betty' in the world premiere of Jonathan Harvey's Opera 'Wagner Dream' for De Nederlandse Opera, a role she later performed for the Welsh National Opera in 2013. Jane is also Musical Director of a number of choirs including the Dorset Police Male Voice choir.
Lessons
Jane is an established vocal teacher with over 20 years experience. The benefits that singing brings to general health and well-being are now widely recognised and Jane has a particular interest in the use of the voice to reduce physical and psychological tensions. Her teaching is based on the co-ordination of the physical and mental aspects of vocal technique to allow the 'free voice' to emerge. Her approach is particularly valuable to singers and speakers who are experiencing vocal tension or individuals who would love to sing but are afraid. Learning to sing can boost confidence and reduce stress. Lessons can be structured as a series of courses tailored to the individual needs of each student. Jane also offers specialist vocal coaching for choirs and small ensembles. For further informationcontact Jane. All consultations are confidential and adhere to strict ethical guidelines.
Frequently asked questions
Can everybody sing?
Yes! Several of my students have gone through life believing they could not sing, usually because they were told this at school. All of these individuals have gone on to sing in choirs.
Can everyone sing in tune?
Yes. Most intonation problems are due to technical reasons such as a closed throat or physical tensions.
Am I too old to learn to sing?
No. Although singing is a very physical activity, all ages can improve their physical and mental health through singing.